7 Best Mattresses For A Guest Room
Last Updated: July, 2022
Please Note: This Post Contains Affiliate Links
Most times, holidays are always in full swing. That means you're most likely to have more guests occupying the guest rooms. And so, to ensure the sleep comfort of your guests, it's crucial each guest bed get a premium guest mattress. Unfortunately, the market is flooded with different kinds of guest room mattresses, from memory foam mattresses to hybrid mattresses to innerspring mattresses, the list is endless. With such a wider array of options, it can be very challenging to narrow down to the best mattress for a guest room. However, don't despair, as our collection of the best mattresses is here to steer you towards purchasing a high quality mattress or rather mattresses.
Expand Table of Contents
​Choosing The Best Mattress For Your Guest Room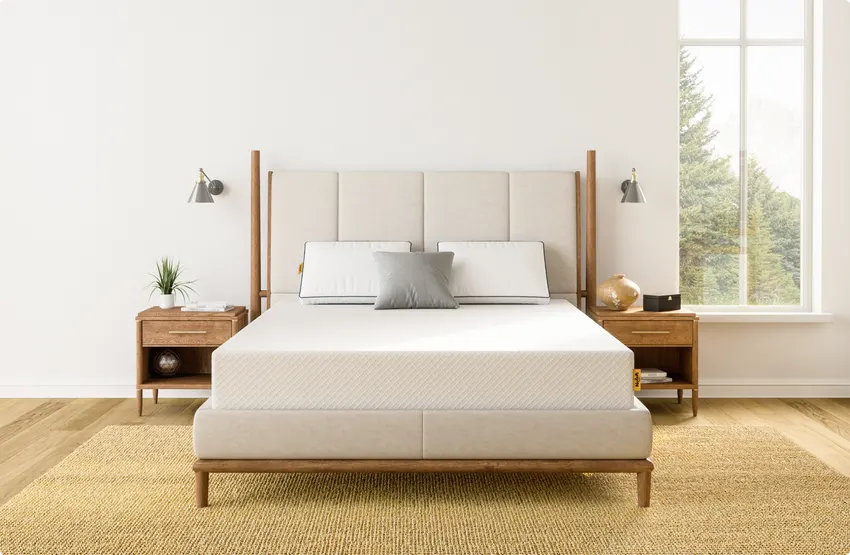 Nolah Original 10"
What makes this perfect mattress so interesting is that it offers excellent pressure relief, up to 4 times more than most typical high-end mattresses. Currently, this mattress has won 3 awards. The more reason you should buy it.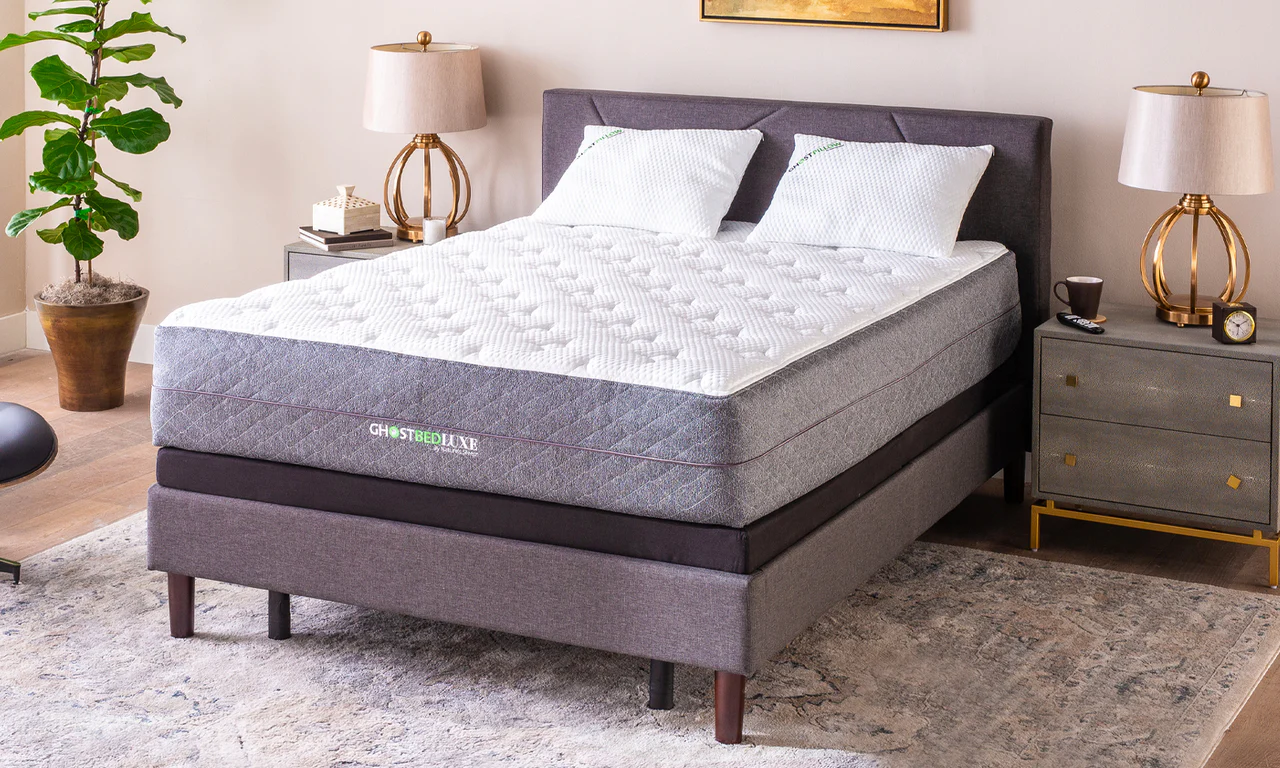 GhostBed Luxe Mattress
For a mattress with an excellent bounce in conjunction with support, your guest will definitely appreciate this high-end mattress.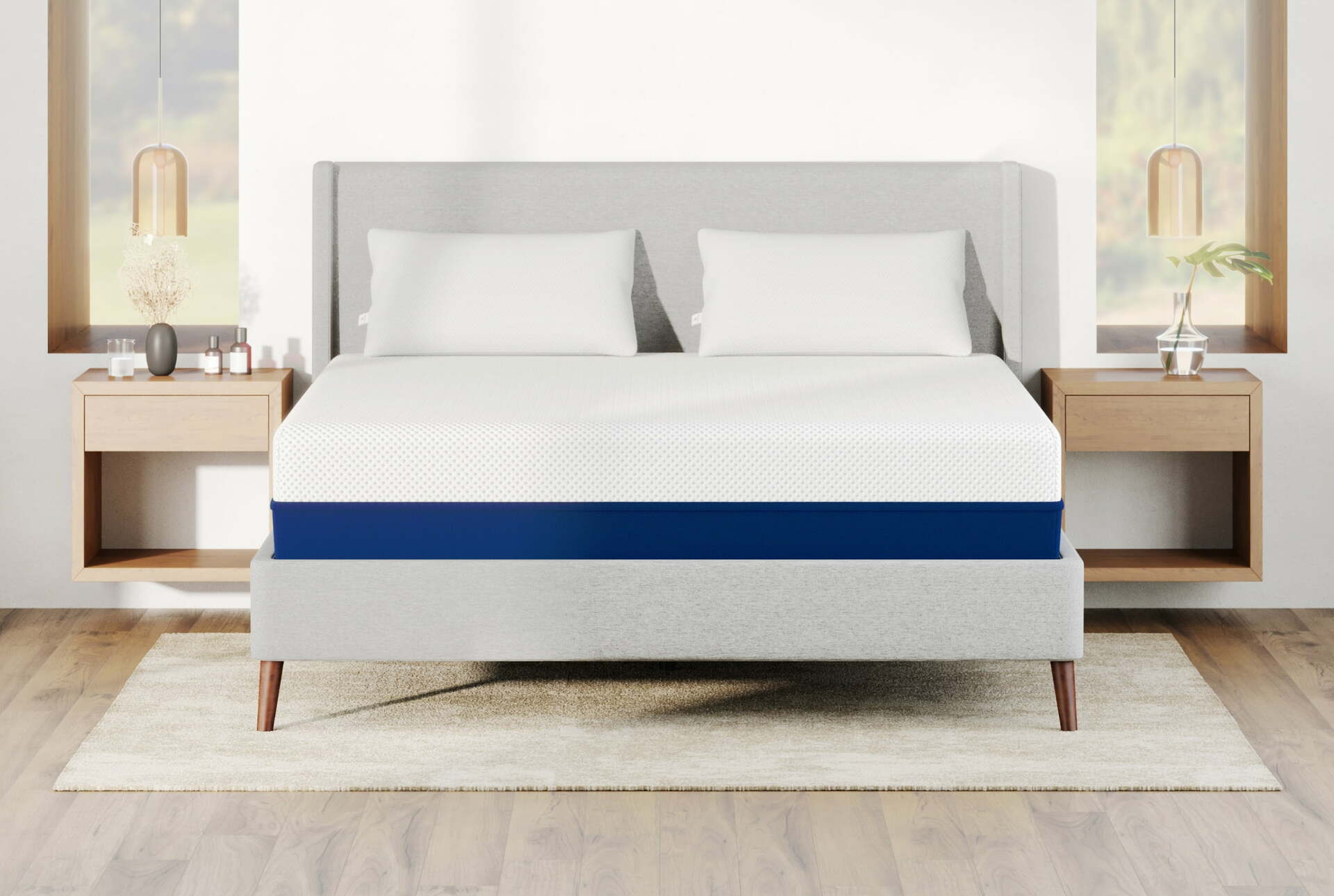 Amerisleep AS3 Mattress
With its splendid construction and plant-based materials, your guests can be sure of spectacularly comfortable sleep on this guest mattress.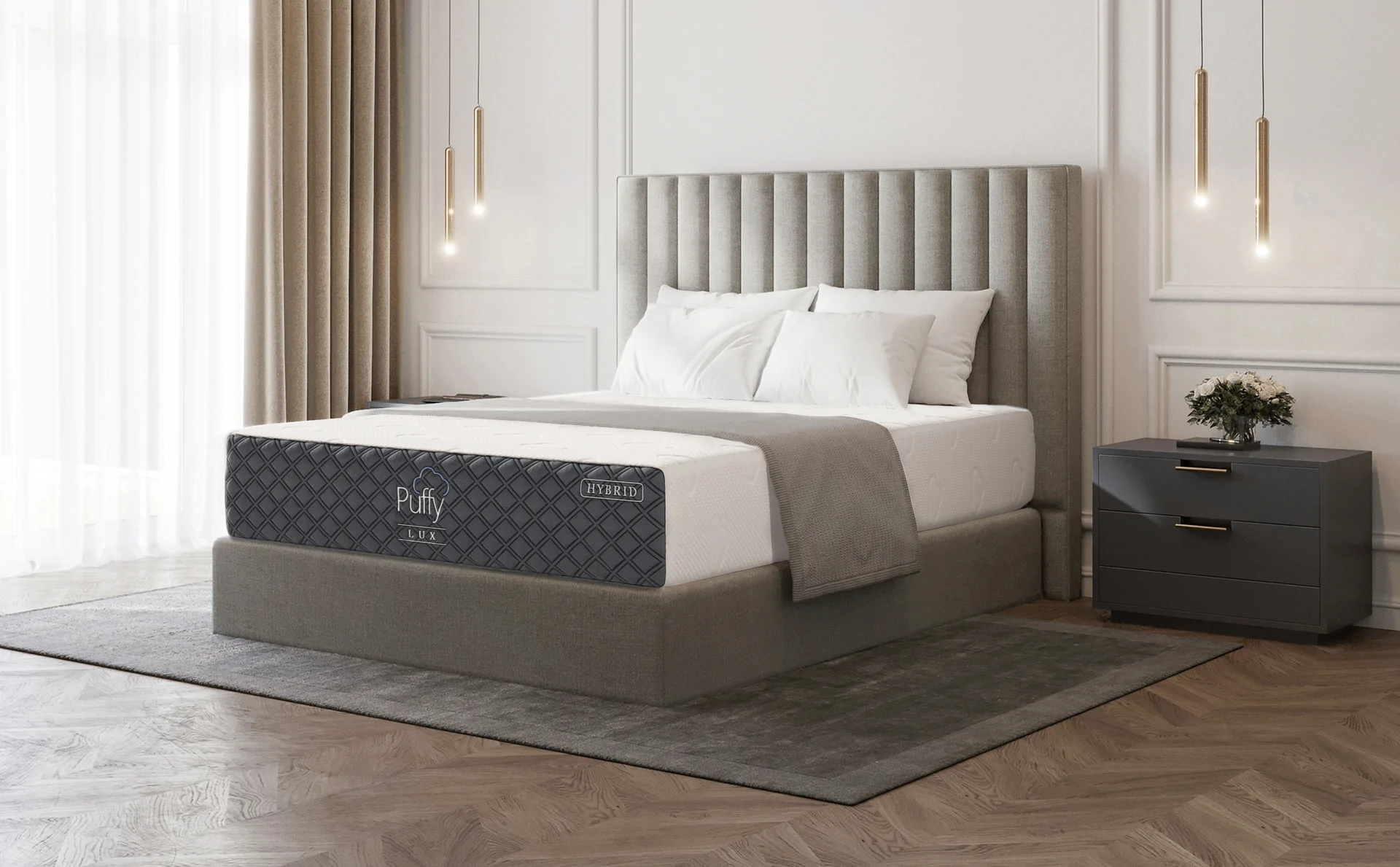 Puffy Lux Hybrid Mattress
Do you seek quality sleep? If the answer is yes, then you can be sure that this high quality mattress will give your guest exactly what they need.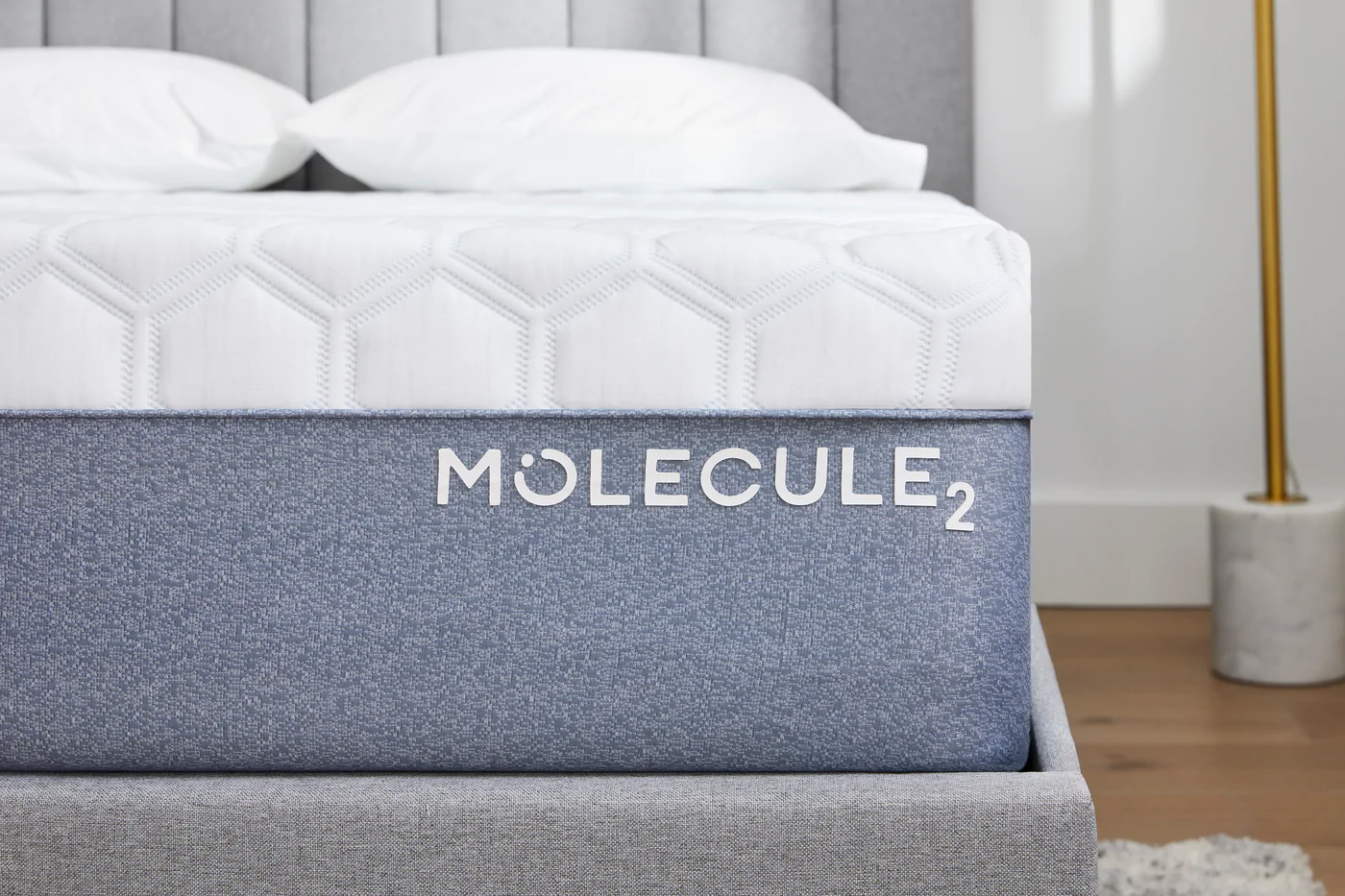 Molecule 2 AirTEC Mattress With Microban
Not only is this mattress CertiPUR-US® foam Certified, but it also has an antimicrobial mattress cover which provides a cleaner sleep in conjunction with its Microban®.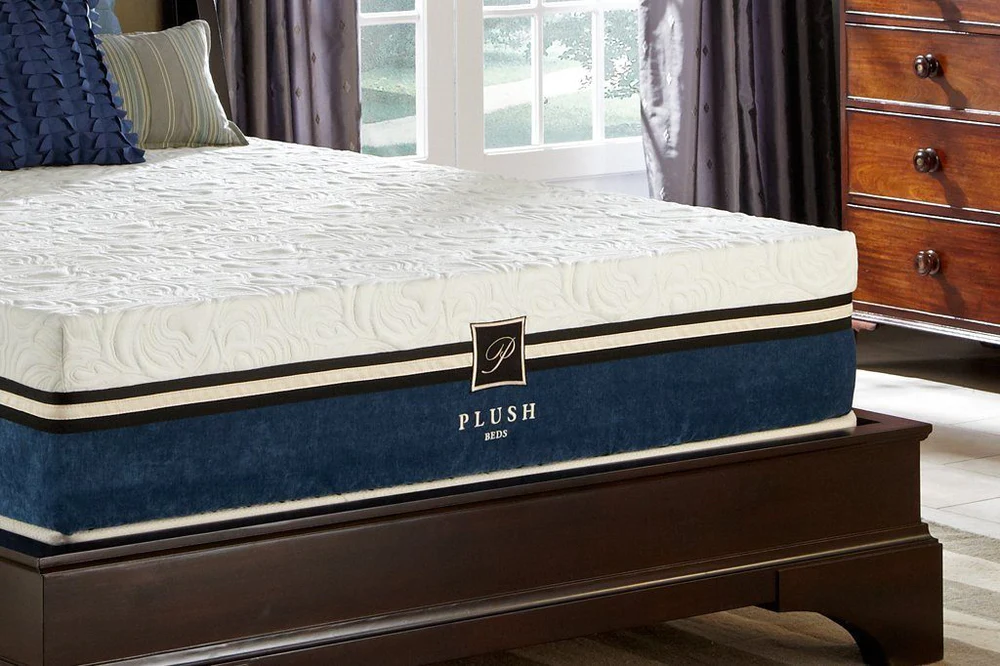 The Cool Bliss® Memory Foam Luxury Mattress
If you want a unique gel memory foam mattress that's been handcrafted and locally produced, look no further than the.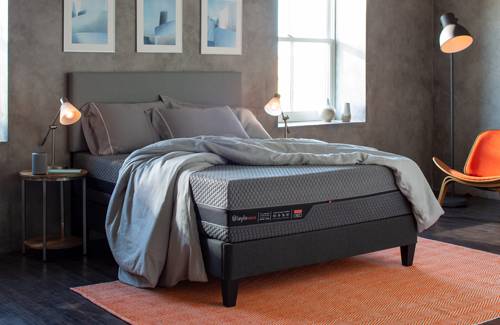 Layla Hybrid Mattress
If you've been looking for a hybrid innerspring mattress for your guests, then the Layla hybrid mattress should suffice during the holidays if you'll be having guests over.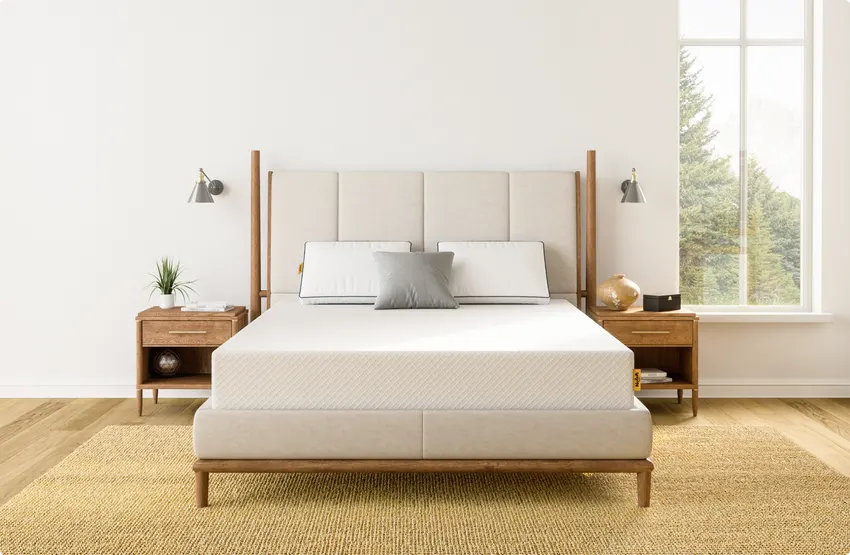 What We Like
It offers up to 4 times great pressure relief than most typical mattresses

It has a fantastic Cooling AirFoam™

Currently, it has won 3 awards

Nolah provides a lifetime warranty on this model.
What We Don't Like
Not suitable for individuals weighing more than 230 pounds
Overall Thoughts:
Generally, the Nolah Original 10″ mattress has a stack of 3 layers making up the 10-inch thickness. The first two layers have a similar lb. density of 3.0 units each. Moreover, these layers are made up of Airfoam memory. The first one is 2 inches thick while the second one is an inch thick. The bottom layer measures a 7.0-inch polyurethane foam thick. With an lb. density of 1.8 units, this layer is responsible for providing support.
Firmness Scale and Comfort
In the pressure relief department, the mattress seems to outdo itself performance-wise, according to customers' mattress reviews. Particularly, this mattress is mainly marketed to side sleepers. But since it's a versatile mattress, it can also accommodate back and stomach sleepers. With an incredible firm scale of almost 70%, medium firm mattresses like Nolah should definitely be an essential part of the beddings arsenal in your guest rooms. Regardless of how often you like switching to a different sleeping position, you can bet that the mattress' edge support is top-notch. That means it will feel bigger, leaving you more sleep space. For those seeking a comfortable mattress that'll ensure their guests feel at home in their guest bedroom, Nolah Original is a considerable choice.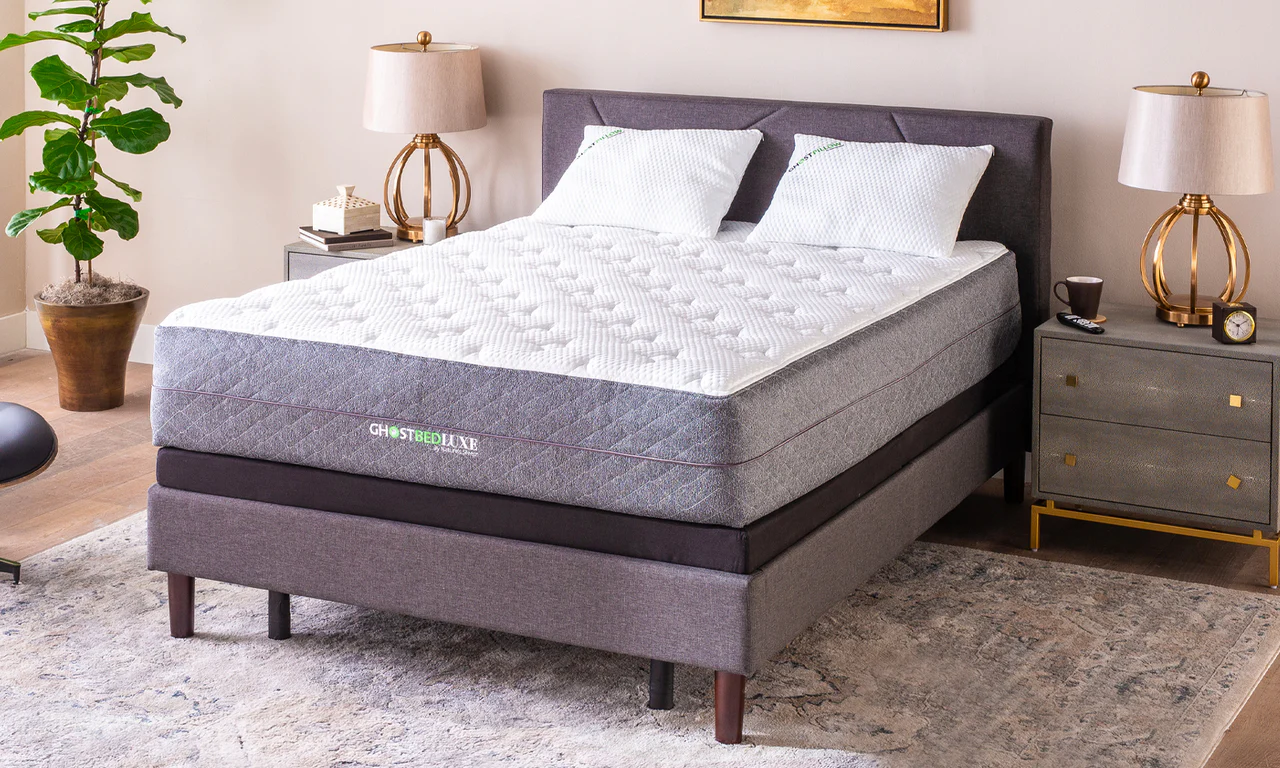 What We Like
It has an excellent contouring gel memory foam

It has a cool-to-the-touch quilted cover

It's denser to provide support

Suitable for hot sleepers
What We Don't Like
It might not suit stomach sleepers seeking more support and those looking for an affordable mattress.
Overall Thoughts:
Ghostbed has been pretty much at the top ranks of companies dominating the beddings industry. This company is known to produce luxurious and arguably the best mattresses in the industry. And there's no way their Luxe model was going to miss our list.
Design and Construction
Construction-wise, this luxe model has a total of 3 layers. Including a cooling mattress, making it a suitable pick for hot sleepers. These layers add to the mattress's 13-inch thickness. The cover may not technically be a layer, but it most certainly has a 1-inch thick gel foam layer and 0.5-inch cooling fiber, which aid hot sleepers sleep comfortably throughout the night. Sandwiched between the top and the bottom layer is the 2″ layer made of propriety foam. Ghostbed calls this layer the "Ghost bounce layer" due to its blend mixture of natural latex foam and memory foam.On a similar note, the top layer is made of 2-inch gel foam, including the "Ghost ice layer" responsible for dissipating heat. And finally, at the bottom is a 7.5-inch layer made of high-density foam for support. Features of this mattress's layers make it a suitable guest room mattress, especially if your guests are back and side sleepers.
Motion Isolation
Another perk ranking GhostBed luxe as the best memory foam mattress for a guest room is its excellent pressure relief and motion isolation. Essentially the memory foam comfort layer transfers motion to minimize disturbance. Moreover, edge support is also top-notch, and so your guests don't need to worry about support insecurity while lying on this guest bed.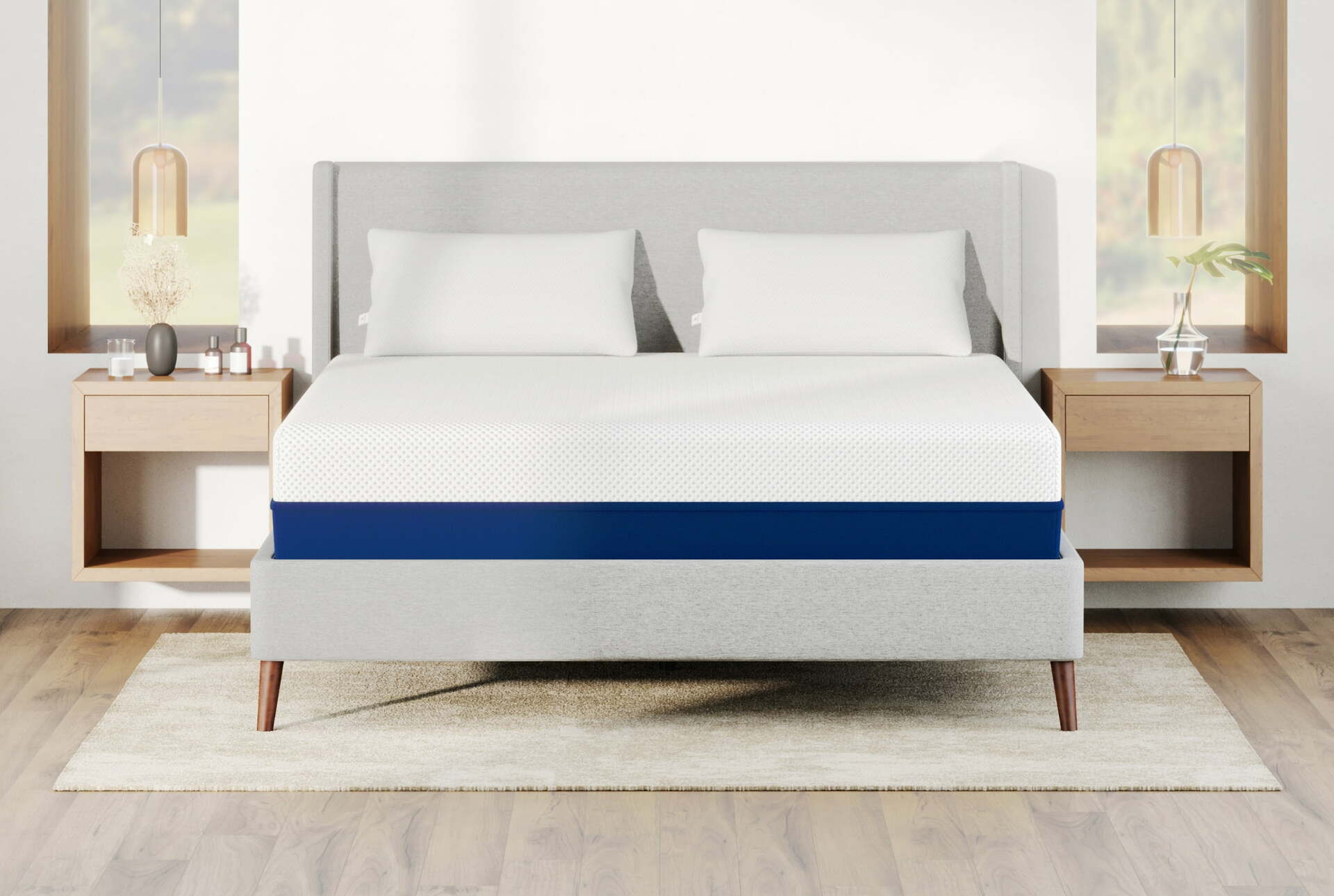 What We Like
A relatively easy-to-wash mattress cover

Suitable for all sleep styles

Ideal for combination sleepers

Made of durable materials
What We Don't Like
It has a slight off-gassing
Overall Thoughts:
Underneath the covers of this guest mattress are 3 layers. At the top is the 3-inch comfort layer. The layer comprises Bio-pur plant-based memory foam. The layer also has an open cell structure which is exceptionally unique. With that, it goes without saying that this is an excellent memory foam suitable for your guests. Compared to traditional memory foam, this layer doesn't trap much heat. So during the summer period, this memory foam mattress is worth considering, especially if you'll be having guests over.
Construction Profile
Up next is the 2-inch transition layer. The good thing with this layer is its magnificent responsiveness. Also, compared to a traditional memory foam mattress, this layer spectacularly balances out the foam comfort preventing quick sand-related sensation. Surprisingly this mattress has a unique HIVE design that looks almost exactly like a beehive. Most importantly, this layer prevents night sweats mainly due to its amazing temperature regulation.At the very bottom is the denser base layer with a thickness of 7 inches. Given its firmness, this layer provides excellent support, including a firm feel. So if you prefer a firm mattress of this caliber, you can be sure it'll be an excellent choice worth your investment. Also, due to its firmness, it expells a springy feel but is sturdy enough to assure your guests of an enjoyable sleep full of world-class comfort. That said, if you're looking for a new mattress for your guests, you can bet on the AS3 being an excellent upgrade to your guest room.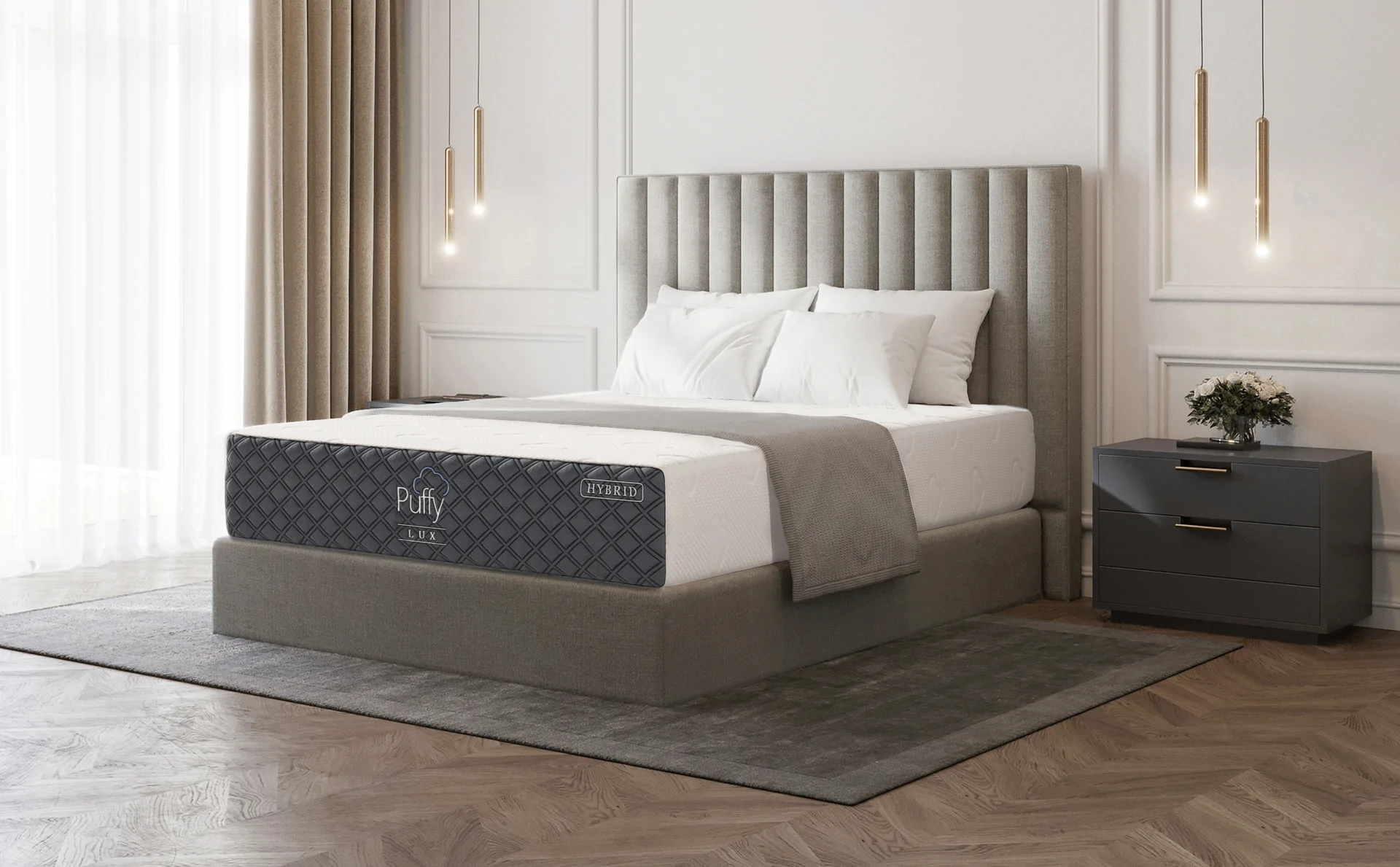 What We Like
Its responsiveness is top notch

Suitable for side and back sleepers.

An excellent pick for hot sleepers.

Has a tremendous level of softness.
What We Don't Like
Unfit for stomach sleepers
Overall Thoughts:
If you have been looking for the best hybrid mattress, Puffy Lux happens to be one of the top. Essentially, this mattress has an amazing responsive foam layer you can gently sink into. This is a feeling the company commonly describes as 'sleeping on the cloud.' Notably, this mattress doesn't accommodate stomach sleepers. But a suitable solution to this problem is getting your guest mattress toppers for stomach sleepers. With such a mattress topper on each guest bed, even combination sleepers will benefit from it significantly.
Construction and Design
In every mattress, construction determines how effective a mattress is at sleep performance. Unlike other premium mattresses, Puffy has up to 6 layers, each of which has a distinct role in delivering a toclass sleep experience. With its unique construction design, puffy is worth considering in your mattress shopping quest. If you didn't know, the puffy mattress is arguably the best gel infused foam mattress you'll ever come across. Moreover, this puffy mattress has 3 main layers. The mattress's 6 layers work hand in hand to give you the ultimate pain relief, especially if you're trying to avoid the pains and aches most stomach sleepers experience. As previously mentioned, you should also get a mattress topper for each of your guests if you don't know whether they are side sleepers, stomachs, and even back sleepers.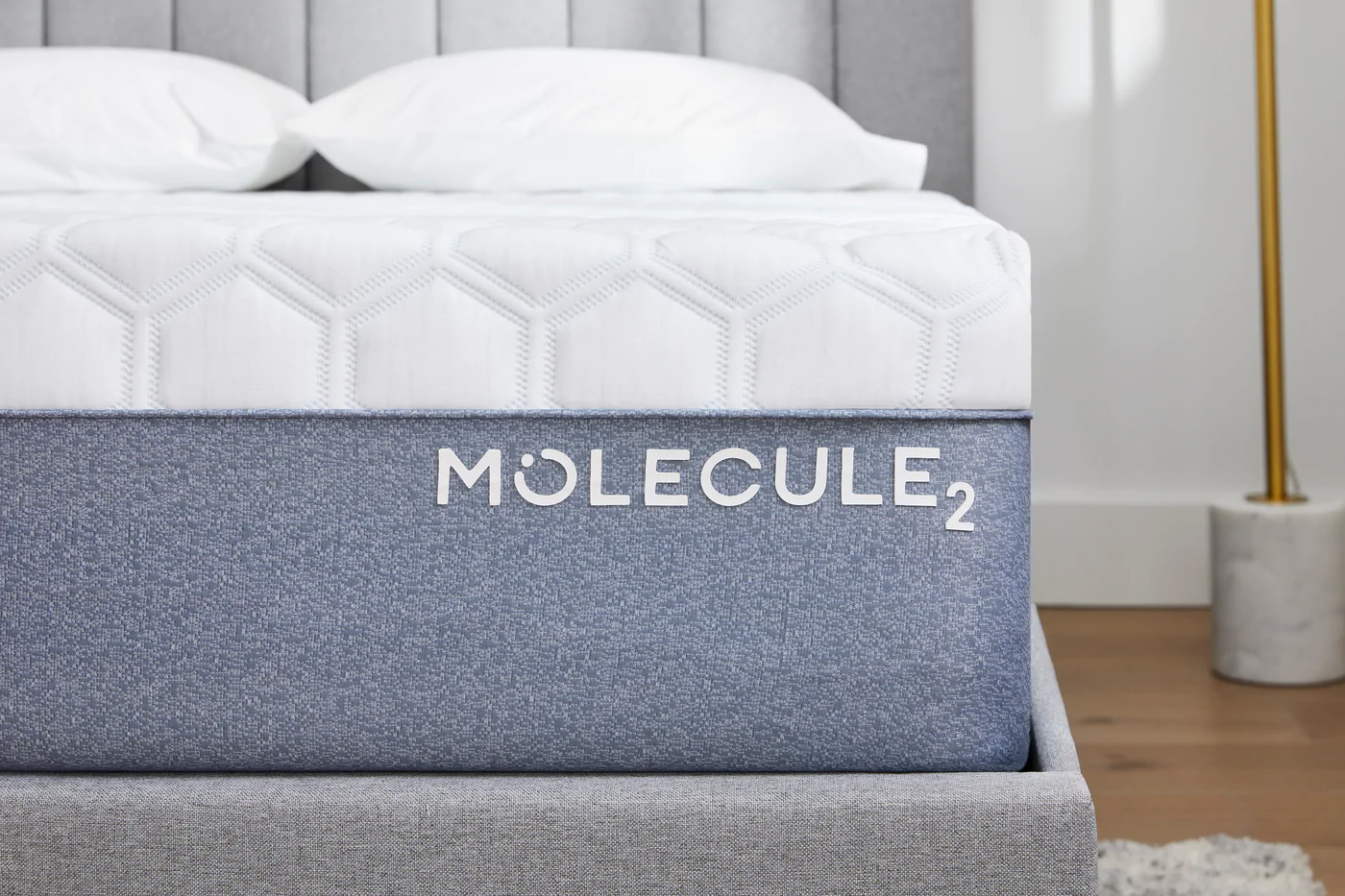 What We Like
Has an antimicrobial mattress cover

It offers amazing edge support

The company offers a lifetime warranty

Sleep trials of 365 days.
What We Don't Like
Overall Thoughts:
If you're looking for a more restorative sleep which will leave you fully woken up in the morning and incredibly energized, the Molecule 2 AirTEC is the ultimate solution to your problem. This mattress is solidly compact, and once on your guest room bed, you can bet it won't shift even under major disturbance. Another important thing making this a suitable mattress for guests is its temperature-regulating Tencel material. The material makes up the wrinkle-resistant sheet, which is also eco-friendly and cool-to-the-touch, giving you a cool and comfortable night. The mattress works well with a bed frame, but unfortunately, it doesn'tlll LP plscome with one.
Firmness and Breathability
According to customer reviews, it's reasonable to deduce that this mattress has an incredible firmness rating of 75%. On a firmness scale, it would be categorized among the best medium firm mattresses in the market. Quality mattresses like this one have perfect air flows to prevent night sweats. All its layers participate in dissipating the heat from your body. As far as sleeping styles is concerned, the mattress can literally accommodate any sleep style. As a versatile guest room mattress, you can use it on a bed frame, lay it on a flat surface, foundation or box spring, etc. All in all, a versatile mattress like the Molecule Air 2 Tec contours well with the body regardless of your guests' sleeping positions, be it they are combination sleepers, back, side or stomach sleepers.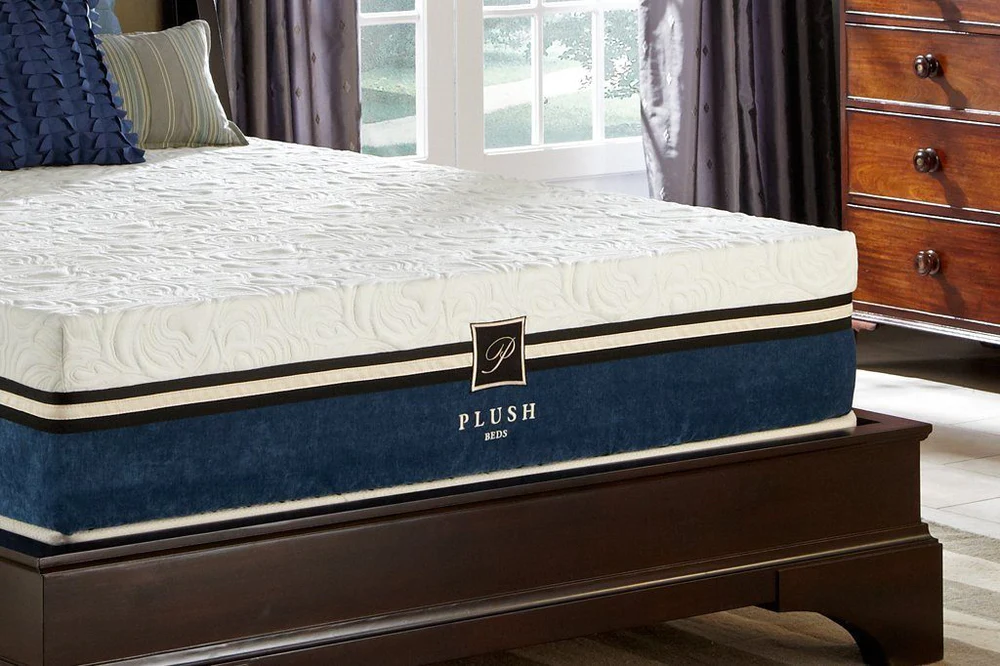 What We Like
It's a handcrafted product from the US.

It's an award-winning mattress

Has a warranty of up to 25 years

Offers excellent pressure relief
What We Don't Like
Expensive for those on a tight budget.
Overall Thoughts:
The thickness of this gel memory foam mattress is 12 inches comprising 12 layers. Given that it's a latex memory foam mattress, it's considered to be among the best hybrid mattresses on the market. So, if luxury is among your top priorities, your visitors will most definitely feel like VIP guests in a 5-star hotel.
Construction Profile
The composition of this magnificent mattress is quite spectacular, and each layer has a function to ensure a restful night. Generally, its 5 layers also include the mattress cover. Immediately underneath the cover is the 3-inch top layer made primarily of patented gel memory foam. This layer's role is to ensure you sleep cool with maximum comfort. In addition, it also provides spectacular pressure relief and compression support. Next up is the 2-inch transition layer made of Arpico latex. This layer is excellent at offering bounce and support for all-night comfort. The 2-inch high-density support layer comes third fitted with 2.5lbs airflow for temperature regulation to ensure your guests don't sleep hot. At the bottom is the giant 5-inch bottom layer packed with 5 pounds of natural latex combined with foam. The layer works with the top 3-inch layer to provide ideal support to your guest bed and bounce backs originating from movements on the top layer.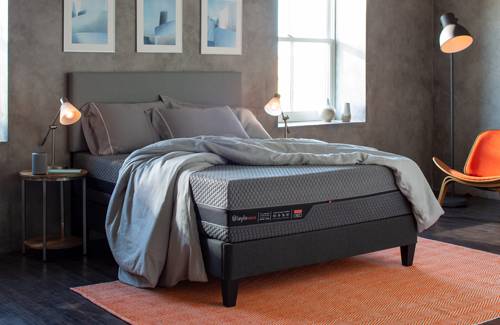 What We Like
Unique individually wrapped coils

It has a superior edge support

Flippable to a convenient side

It offers amazing comfort for all sleeping positions
What We Don't Like
The price might not favor buyers on a tight budget
Overall Thoughts:
Like GhostBed, Puffy, and other well-established mattress companies, there's no denying the fact that Layal has built a name for itself in the industry. If you want a mattress model with a variety of size options, then this Layla mattress is the best one worth settling for.
Size Options
Available mattress options are the twin, full, twin xl, Queen, California king, and king sizes. Importantly the California king, King, and queen size mattress options are quite pricy than those other options. Plus, they are the only options that are larger. For those who want to etch a lifetime sleep experience in the memory of their guests, those two options should suffice.
Support and Pressure Points
Layla's feel is among the best in the industry and more supportive than the original version. Moreover, it contours your pressure points and curves spectacularly and doesn't give you the sinkage most memory foam mattresses have. Its construction ensures excellent body heat dissipation, so you don't sleep hot at night. Notably, it has individually wrapped coils around the edge in the coil layer boosting its edge support.
Choosing a Mattress For Your Guest Bedroom
Distinguishing the best mattresses isn't enough when looking for an ideal choice for your guests. There are essential factors you must put into consideration as follows.
Price
Like any product, price is a key element in any mattress shopping quest. Generally, you should set your budget between $700 and $3,000 if you want to get a new mattress from our selection. For those who are tight on a budget, the Amerisleep AS3 is suitable as its price ranges between $700 – $1,700. The award-winning Nolah mattress is also an excellent choice as its price stands at $900. However, if the price isn't an issue and you're looking for quality, then GhostBed, CoolBliss, and Layla are your go-to options.
Firmness
When shopping for mattresses for your guest rooms, keep in mind that people have different firm-scale preferences. While some may gravitate towards softer mattresses, others may prefer much firmer mattresses. In such a case, go for medium-firm mattresses. A mattress with a medium firm firmness scale will provide your guests with the ideal support and enough comfort.
Mattress Types
The type of guest mattress you choose largely depends on personal preferences. However, if you're hosting guests once, twice, or thrice a year, you're better off purchasing a low-cost mattress. All in all, common mattress type options are hybrid, innerspring and memory foam, and latex. If you have limited guest room space, consider getting air mattresses. Another thing with an air mattress is that most are cost-effective.
Closing Thoughts
Remember, when shopping for mattresses for your guest rooms, your guests' comfort should be your top priority. Moreover, set a reasonable price range for the quality of the mattress you want. Other factors to consider when purchasing a new mattress are your guests. For example, are they overweight and tall, and are there some who are allergic to certain types of mattress materials? Just buy a neutral mattress that'll cater for your guests regardless of factors like sleep positions.
Gabe is the newest member of The Sleep Shop team. If you like the design of The Sleep Shop, give Gabe a thumbs up. He's a digital marketing and design guru and the brains behind the design and SEO of The Sleep Shop. He also won't say no to testing a ton of mattresses either, and helps on almost every mattress review.